Building relationships with customers via email can be a powerful way to create loyalty, increase sales, and foster long-term engagement with your brand. Email allows businesses to communicate directly with their target audience in a personalized and cost-effective way. Focusing on building relationships, companies can ensure that they keep lifelong customers with something as simple and effective as an email.
Here are a few ways that email can help build relationships with customers:
Personalization: Email allows businesses to segment their audience and send targeted messages to specific groups of customers. Segmentation helps build a sense of connection and relevance, as customers feel they are receiving messages tailored to their interests and needs.

Convenience: Email is a convenient way for customers to receive business information and updates. It allows them to receive messages at their own pace and on their own time, which can be a more appealing option for some customers than other channels such as social media or direct mail.

Interactivity: Email allows businesses to include interactive elements such as calls to action, surveys, and polls, which can help to engage customers and encourage them to take measures that will strengthen their relationship with the business.

Consistency: By sending regular email communications to customers, businesses can establish a consistent presence in their customers' lives and build trust and reliability over time.

Customer service: Email can be used as a customer service channel, allowing businesses to respond promptly to customer inquiries and concerns. Prompt replies help to build customer loyalty and improve the overall customer experience.

Provide value: Email can give your customers something of value in every email, whether it's a discount, exclusive content, or helpful information.
Many businesses choose to work with email marketing automation tools that help to establish the initial contact with potential and existing customers, through an automated dedicated email or a newsletter. However, building a relationship doesn't end with the initial contact. This is where shared inbox tools come in, helping to maintain personal email communication and excellent customer care in the long run.
Working with both tools can be extremely useful, as it enables marketing teams to efficiently collaborate with other parts of the company that take care of customer inquiries and other communications.
This article will focus on two tools that provide these solutions and how they can work together. We will focus on Campaign Monitor, a leading email marketing tool, and Replypad, a collaborative shared inbox solution that can enhance how your team handles incoming emails.

A marketing automation tool
Email marketing tools allow you to automate certain aspects of your email marketing efforts, such as triggering emails based on customer actions or behaviors.
Digital marketing teams usually use them to send dedicated emails and newsletters to their customers. Email marketing specialists are responsible for planning, implementing, and managing email marketing campaigns for a company or organization. Their work includes identifying the target audience for the campaign and developing segmented email lists to reach specific groups of customers or prospects. Creating email marketing content that is engaging, relevant, and aligned with the company's branding and marketing goals, and more.
They use email marketing automation software to design and send dedicated emails and newsletter, track the results of campaigns, and optimize future campaigns based on data and analytics.
Campaign Monitor is an email marketing platform that provides tools and features to help businesses reach and engage their audience through email.
Some of the features offered by Campaign Monitor include:
Email design and templates: A wide range of design options and templates to help users easily create visually appealing and professional-looking emails.

Targeting and segmentation: Allowing users to segment their email lists and send targeted messages to specific groups of customers or prospects.

Email deliverability: Tools to help ensure that emails are delivered to the intended recipients and not marked as spam.

Tracking and analytics: Detailed analytics on the performance of email campaigns, including metrics such as open and click-through rates.

Integration with other platforms: Integration with various other platforms, including CRM and social media tools.
Although the digital marketer focuses on building email lists, creating emails, and nurturing leads through written communications, they may also be involved in other stages of customer acquisition and onboarding and collaborate with other teams in the business.
A collaborative shared inbox software
Replypad is a collaborative shared inbox software that helps teams work together effectively. It is designed to facilitate collaboration among team members who need to manage leads, customer inquiries, support requests, and other types of communications. It does it by keeping the power and simplicity of working with an email client while providing in-app team collaboration and automation capabilities.
Using a Replypad as your team email management software can enhance the way you use email in several ways:
Improved collaboration: Shared inbox software allows team members to collaborate on email communication in real-time, behind the scenes, making it easier for them to respond to inquiries and resolve issues together.

Increased efficiency: Collaborative inbox software includes features such as conversation assignment, prioritization, and tracking, which can help teams stay organized and manage their workload more efficiently.

Enhanced customer service: It allows companies to provide faster and more consistent customer service, as multiple team members can handle customer inquiries and requests promptly, use saved replies, and consult with other team members.

Better communication: Shared inbox management software can improve communication within a team and with other teams by providing a central location for email communication and allowing team members to see the status of each email and chat internally about the thread.

Analyze business activity with reports.
Overall, software designed to help teams collaborate and manage shared mailboxes can help companies manage their email communication better and improve how they use email in their business operations.
Integrating Replypad with Campaign Monitor
Integrating Replypad with Campaign Monitor provides a complete view of your business, customers, and prospects by showing the relevant data from one app to the other.
It becomes easier to get the information in one spot so that everyone knows what's happening with the customer. Integrating the systems eliminates the need for multiple logins and browser windows.

Integration features:
Things you can do when using the Replypad – Campaign Monitor integration right within the context of the email conversation in Replypad:
View the mailing lists a contact is subscribed to in Campaign Monitor and when they joined.

Subscribe contacts to a mailing list in Campaign Monitor directly from the conversation window.

Unsubscribe contacts from a mailing list in Campaign Monitor from the conversation window.

Respond to customers' replies on automated emails sent by Campaign Monitor from Replypad.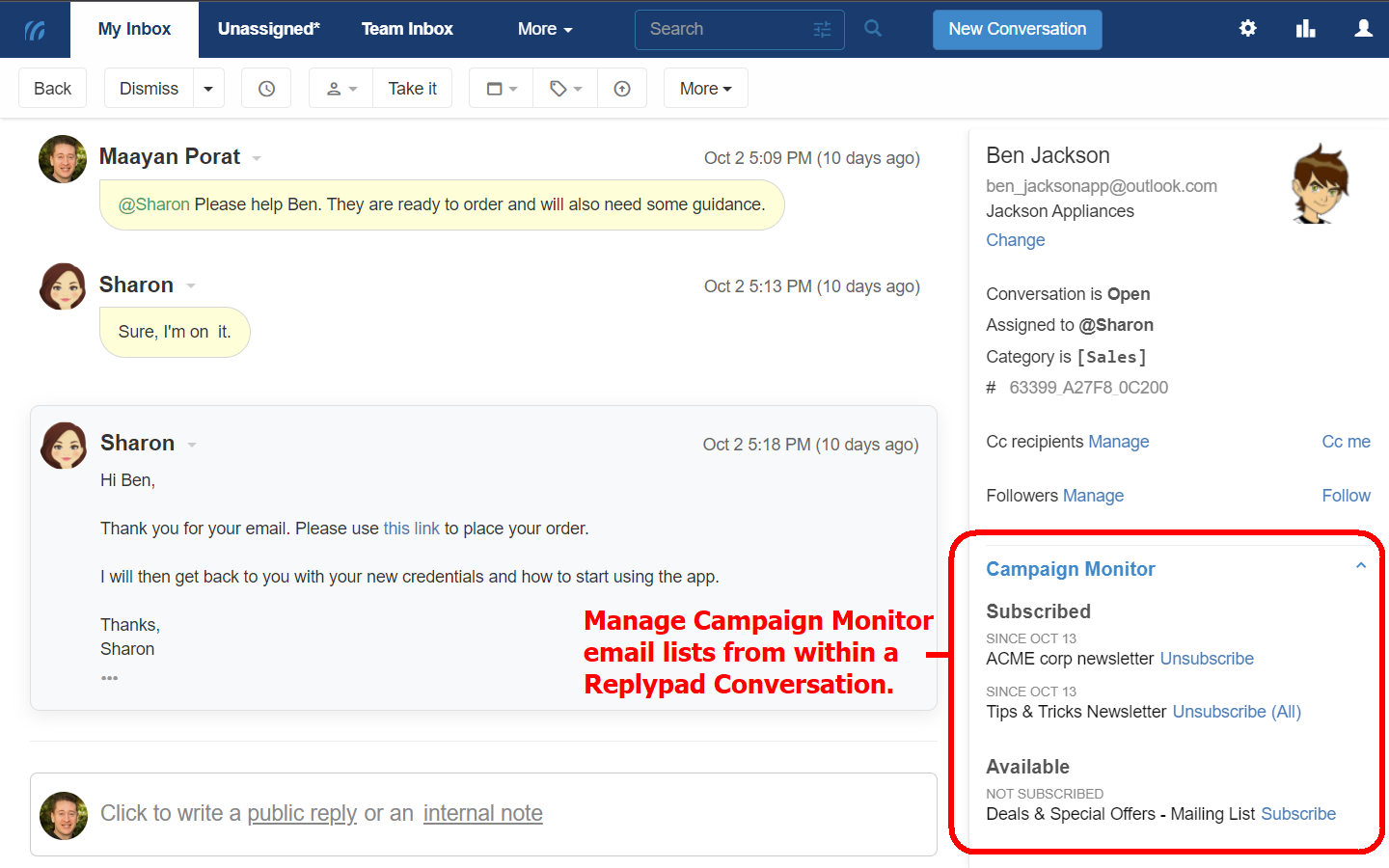 How using the integration will maximize your productivity
The main advantages of using the Replypad – Campaign Monitor integration:
Improved efficiency: Automated email marketing allows you to set up pre-written emails triggered by specific actions or events, such as a customer making a purchase or abandoning their shopping cart. By integrating this with a shared inbox tool, sales, marketing, and support teams can all view the same context of the customer when handling communication. They can manage and respond to automated emails in the same place as other customer inquiries, allowing for a more streamlined workflow.

Tip

If you set your reply-to address of automated marketing campaign emails to arrive at Replypad, customer replies seamlessly become a part of your shared inbox.

Customer data is always up-to-date. Live details displayed from Campaign Monitor ensure that customer and prospects information is always current within the conversation. Team members always know what is going on with the customer when replying to inquiries, which can help you prevent mistakes and miscommunication.

Teams can collaborate while communicating with customers. For example, if a support representative sees a sales opportunity while replying to a customer, they can easily loop in the relevant sales rep, who will take it from there.

Running a business becomes more efficient and convenient. All information is well organized with clear owners. There is transparency, data flows between the teams, and everyone can handle things much more smoothly.

Better customer service: Automated email marketing can help ensure that customers receive timely and relevant communication, even when marketing specialists cannot handle inquiries in real time. Integrating automated email marketing with a collaborative inbox tool allows team members to respond to customers who reply to automated emails as needed, improving the overall customer experience.

Enhanced tracking and analysis: Integrating automated email marketing with a shared inbox tool can allow you to track and analyze the performance of both manual and automated emails that customers reply to in one place, providing a more comprehensive view of your email marketing efforts.

Better user interface: team members who want to subscribe or unsubscribe a user while working with a conversation in the shared inbox tool can perform actions eliminating the need to switch between multiple tools.
Start Using Replypad with Campaign Monitor
Replypad is a modern inbox for teams. It lets sales, support, success, and finance teams collaborate and work together as a team when working with customers. Replypad is designed from the ground up to keep your team efficient, your business organized, and your customers happy. Replypad empowers teams and scales as a company grows.
Integrating with Campaign Monitor is straightforward. Once connected, you can access the details of a person in Campaign Monitor right from the Conversation in Replypad.
Try Replypad with your team for free

Get more from Campaign Monitor.
Communicate, collaborate, work as a team, get organized, and make customers happy.
Try now with your team for free.
15-day free trial. No credit card required.
No strings attached.